Cyber Maturity Model Certification
The Cybersecurity Maturity Model Certification (CMMC) is a new program introduced by the Department of Defense that will serve as framework to enforce Defense Federal Acquisition Regulation Supplement (DFARS) requirements
Experienced
What was once a self-assessment is being transitioned to a third-party audit system to better determine your company's security standing.
While you can become CMMC compliant in-house, outsourcing by working with a CMMC consultant is the most effective way to tackle becoming compliant. By outsourcing your security framework to an experienced Managed Security Service Provider (MSSP) who specializes in CMMC compliance solutions, you can better prepare for a CMMC audit. We offer a list CMMC services ranging from assessments, policy development, and full remediation ensuring you can focus on what you do best with less downtime.
What is CMMC?
The Cybersecurity Maturity Model Certification (CMMC) is a new program introduced by the Department of Defense (DoD) that will serve as a framework to enforce Defense Federal Acquisition Regulation Supplement (DFARS) requirements.
The purpose of CMMC is not only to assess and enhance a firm's security posture, but also to protect controlled unclassified information (CUI). Better security of CUI from the Defense Industrial Base (DIB) will in turn reduce the risk of losing said information, leading to maintaining stronger national economic security.
In order to assess and enhance security posture, a third-party audit of your business will be conducted in order to assign your firm's level of cybersecurity maturity.
Levels of CMMC
Once the audit is completed by an approved third-party auditor, one of five levels will be assigned to rank your security posture and processes. As the levels progress, the more complex and mature the posture is. Each level consists of the practices and procedures detailed, as well as those listed in the lower levels.
The levels are as follows:
LEVEL 1: Basic Cyber Hygiene
Antivirus
FAR Requirements
Ad Hoc Incident Response
Level 2: Intermediate Cyber Hygiene
Awareness & Training
Risk Management
Security Continuity
Back-ups
Level 3: Good Cyber Hygiene
Compliance with all NIST SP 800-171 requirements
Multi-Factor Authetication (MFA)
Level 4: Proactive Cyber Controls
Network Segmentation
Detonation Chambers
Mobile Device Inclusion
Threat Hunting
Level 5: Advanced/Progressive Cyber Protection
24/7 SOC Operation
Cyber Maneuver Operations
Real-Time Asset Tracking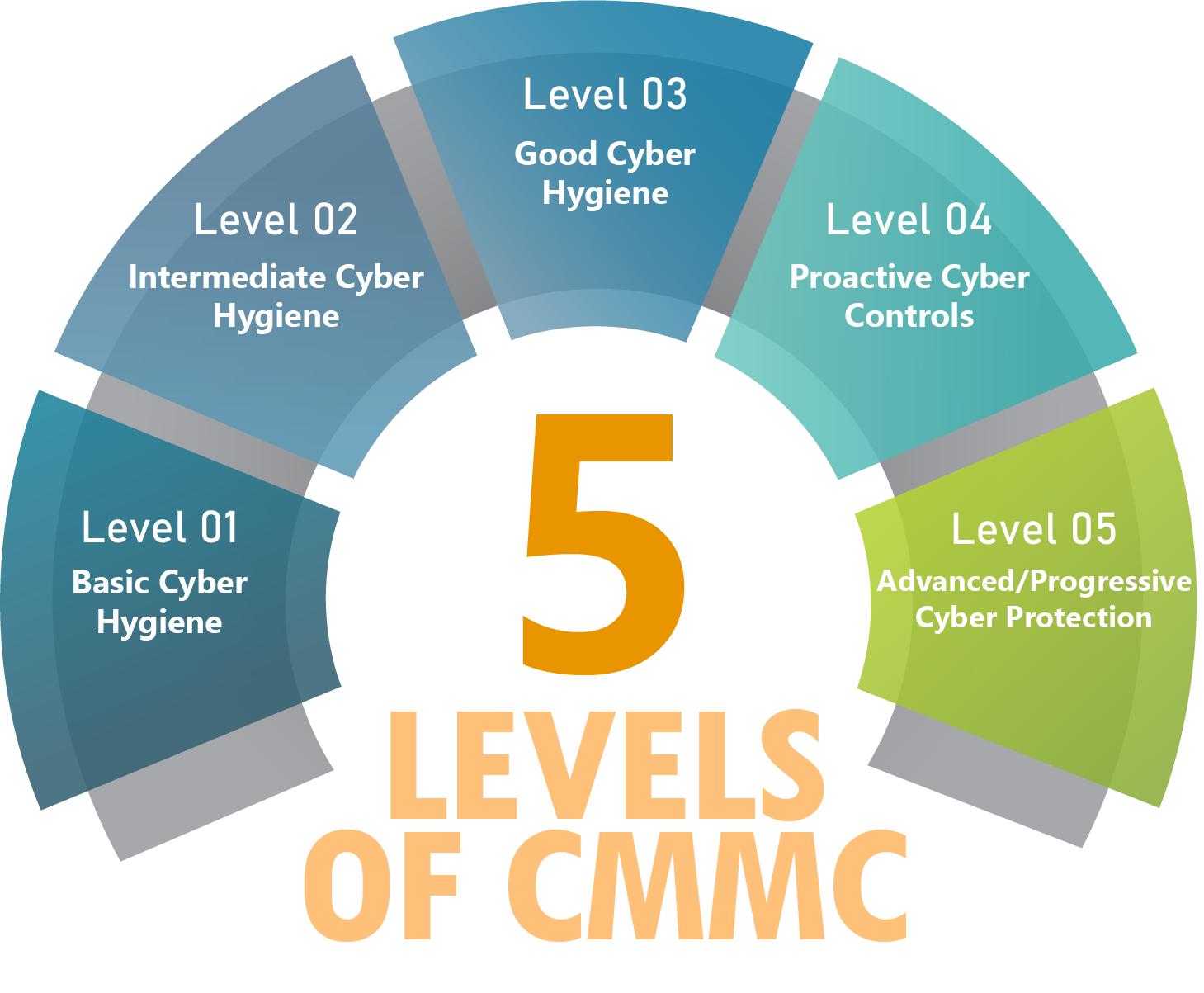 Ranging from basic cyber hygiene to advanced or progressive, these levels each entail certain controls and processes that classify a firm's cybersecurity posture. If you're concerned about the level required of your firm by the DoD, they will be specified in all Requests for Information (RFIs) and Requests for Proposals (RFPs). Any entity that does business with the DoD must at least meet the basic Level 1 maturity. This includes all prime and subcontractors.
How Bravo Can Help
Bravo on Demand for regulated industries is an all-in-one platform for increasing your business's efficiency, improve cybersecurity, and meet compliance requirements with continuous and evolving improvements.
Our industry experts can help pave the way for your digital transformation, all while getting you CMMC compliant. We focus on taking a proactive approach through alerts & monitoring to get ahead of potential problems before they impact your business. With our unique per-user pricing model and tiered package options, we turn capital expenditures into predictive variable costs enabling you to only pay for what you need.
If your company needs direction as far as becoming CMMC compliant, don't wait! Fill out the form below to get in touch with our CMMC experts, and start your journey today.
Let Bravo Help You Prepare for CMMC