With the rise in cloud adoption, it is important to understand how secure your organization will be in the cloud. Many organizations' main reason for not migrating to the cloud is that they are concerned about security. This is a reasonable assumption, as the cloud can be complex, and you may not be sure how your data is being protected. Despite these concerns, the cloud is a great place for organizations to improve their security posture. In fact, cloud security offers many features that organizations don't have access to using legacy systems. Whether you are already in the cloud or considering a migration, there are countless cloud security features that you can take advantage of!
Below are some ways your organization can improve its cloud security.
Understand the Shared Responsibility Model

The shared responsibility model explains the cloud provider and a cloud user's responsibility of ensuring cloud security. Both the provider and user must contribute to security and take accountability of certain threats.
Cloud Provider: Responsibilities of the cloud provider include anything to keep the system itself secure. Examples would be automatic security updates, built-in firewalls, and system patches.
Along with the security required by cloud providers, some also offer extra security features, like Microsoft Defender for Cloud. These features are not included in the cloud environment itself but can be added to enhance security in ways that a third-party security service could.
Cloud User: The cloud user's responsibilities are any extra features that can be deployed by the user or with the help of a third-party. This might include managing users, privileges, encryption, and safeguarding from unauthorized access.
Third-party security services can help improve your security posture by implementing technical controls and monitoring your environment. At Bravo, we can help harden your organization's cloud environment to improve your resiliency and future proof your business.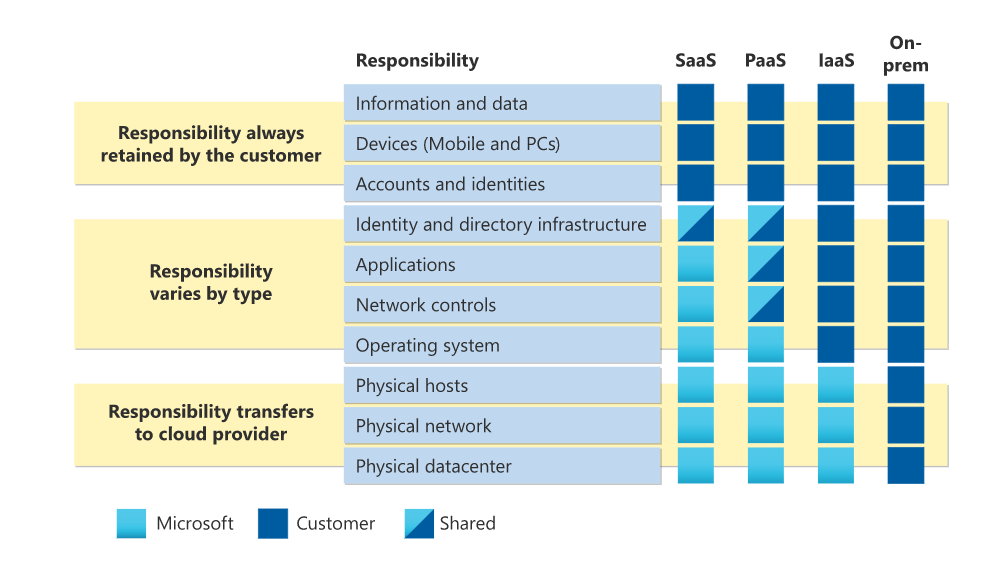 Division of responsibility. From https://docs.microsoft.com/en-us/azure/security/fundamentals/shared-responsibility
Backups

Regular backups are one of the top cloud security practices to keep your organization protected. By backing up your data to the cloud, it will always be accessible. This is especially important with the rise of ransomware attacks. When files are encrypted and payment is demanded, your organization can have peace of mind knowing that data can be retrieved without worry. Other occasions where backups come in handy are accidental deletion of data or natural disasters that take down servers. Finding a third-party backup and recovery solution is critical since cloud providers are not required to back up your data.
Encryption

Another way the cloud is secure is the ability to encrypt data. Encryption makes data unreadable to those who are not authorized to access it. A decryption key is required to access the data and should only be shared with trusted individuals. Data is encrypted when being stored in the cloud as well as in transit to and from cloud-based applications. Although some cloud providers provide basic encryption to its users, it is the user's responsibility to combine encryption with other security measures to keep their data as safe as possible.
Zero Trust Security

Undoubtedly, if your organization is in the cloud, you should be adopting a Zero Trust security framework. Zero Trust is the focal point of President Biden's Executive Order 14028 to improve the nation's cybersecurity. With a Zero Trust mindset, organizations are prepared to never trust, always verify. One of the tools used in Zero Trust to make the cloud more secure is multifactor authentication (MFA). MFA verifies users by sending an authentication request to a separate device or account.
With Zero Trust, you can:
Contain lateral movement and prevent breaches
Achieve increased visibility
Expand protection across various computing environments
Continuously log and report potential detection of threats
For more information on Zero Trust and how it will keep your cloud more secure, read our free whitepaper!
Make the Most Out of Your Organization's Cloud Security

Although the internet is a complex place, the cloud is by far the most secure place to store your important data. But with the increasing threat landscape, it is essential that you take responsibility of your organization's safety and implement best practices. Understanding the shared responsibility model may help you fill gaps in your security practices. When storing data in the cloud, backups are critical to keep files safe and accessible. Lastly, implementing a Zero Trust security framework will provide countless benefits and, most importantly, provide top-notch cloud security to help you sleep soundly at night.
Need to secure your cloud? Bravo has your back! Fill out a form below to get in contact with one of our security experts!