Microsoft 365 has always included an inclusive customizable platform. With M365, you are granted access to some of the Power Platform tools. So, why need more? If you are looking to rapidly create powerful business applications, analyze data, automate processes, and create virtual agents all in one application, Power Platform allows you to do just that. Power Platform is Microsoft's low-to-no code platform that provides you the tools to meet today's business challenges. Power Platform comes with a multitude of licensing options, meaning you are guaranteed to find something that works with your needs. With said, it can be somewhat of a challenge navigating which license will give you the most bang for your buck. But have no fear, Bravo has your back! Continue reading and let Bravo be your guide for discovering the right Power Platform license for your organization.
Power BI puts data-driven insights into everyone's hands, this allows your organizations to make informed, confident business decisions and create a visual story with your data. Power BI is perhaps the least complicated app in Power Platform when it comes to licensing. Power BI is simply available in three different editions: free, professional, and premium.
Strictly allows you to build reports and dashboards for yourself and implement them in the Dataverse for Microsoft Teams. 
This application gives you the freedom to share reports and dashboards in your organization through Power BI Service and embed into any application within the capacity limits. 
Provides easily perform relational database analytics using Power Query or SQL, empowers users to easily create, secure, manage, and oversee data marts while also keeping their focus on generating data insights on things that matter most. Lastly, you will be able to create and share enterprise data with DataMart in Power BI, this will save you time allowing you to digitally transform your organization. 
This low–to–no-code application development platform empowers your team to start creating and launching apps immediately using prebuilt templates, drag-and-drop simplicity, and quick deployment. While your apps grow, Power Apps will roll out continuous improvements as needed. Power Apps also give you the tool to build secure apps without compromise. They do this by including advanced functionality that was previously only available to professional developers; including prebuild Ai components. Lastly, Power Apps enable extensibility for developers by extending app capabilities with tools like Azure Functions and custom connectors to proprietary or on-premises systems. Power Apps offers three different interfaces: Power Apps Portal, Power Apps Canvas, Power Apps Model Driven 
Power Apps Portal allows you to quickly build secure low-code websites that deliver information and services to customers with Microsoft Power Pages.
Power Apps Canvas gives you the liberty to arrange the user experience and interface the way you want it, allowing your businesses to fully personalize your apps based on how you want them to look and feel. 
Power Apps Model Driven is the technology used for Dynamics CRM apps and Customer Engagement applications, they are driven by data and a component-focus approach to app development. Unlike Canvas apps, the design is limited to predefined layouts and components. You have the freedom to design apps that are simple or extraordinarily complex. 
With Power Apps, there are three different Premium Licensing options: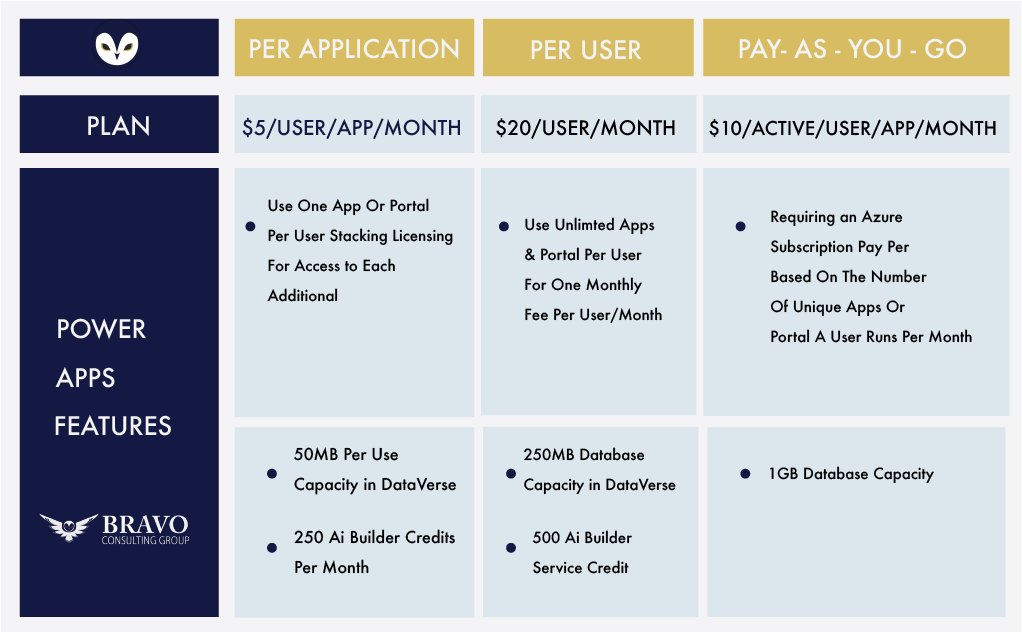 Also nicknamed Flow, it is a tool that boosts work efficiency. This product automates quickly and securely, by encouraging everyone to build automated processes with flows in Power Automate. Power Automate also lets you record and visualize your end-to-end processes with process advisor, giving guided recommendations for creating flows and insights that take the guesswork out of what to automate. Lastly, you will be able to use our AI Builder to make your automation even smarter. This tool will quickly process forms using documentation automation, process approvals, detect images and text, or use prebuilt models. 
Power Virtual Agent Licensing
Create conversational bots with Power Virtual Agent that respond quickly to your customer and employees' needs. This tool allows you to build bots easily and rapidly using a collaborative, low-code graphical interface. These chatbots have the versatility to communicate and engage in multiple different languages across websites, mobile apps, teams, or any channel supported by the Azure Bot Framework. Power Virtual Agent will give you the opportunity to grow by continuously improving your bots using self-learning AI with natural language processing.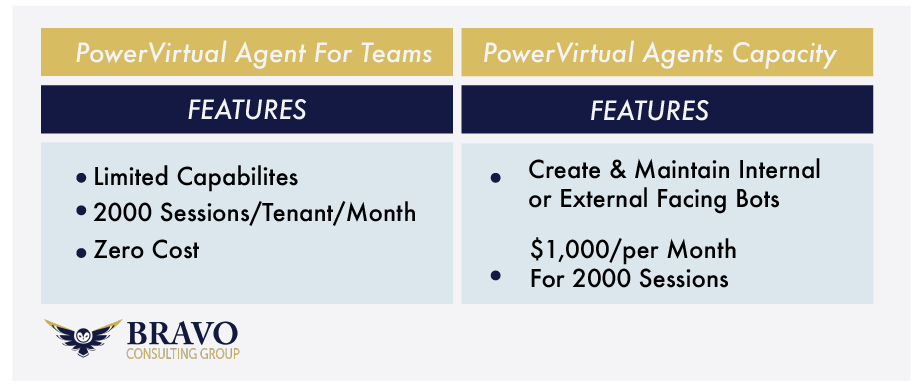 AI Builder is an Artificial Intelligence toolkit that works with the Power Platform which includes Power Apps, Power BI, and Power Automate. This will give your organization the ability to create intelligent automation and find insights by constructing AI models within the Power Platforms. It makes it easy; your organization will be able to build models in minutes by making it easy to create with step-by-step guidance. AI is Included in the Power Automate with attended RPA flow or can be purchased additionally. Power Apps per plan would receive an entitlement of AI Builder service at no cost.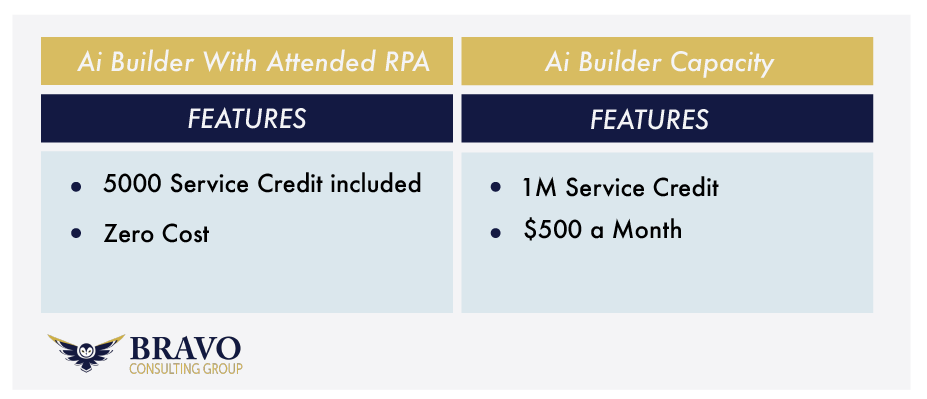 This application allows you to build and run thousands of applications, flows, and intelligent agents with our low-code data platform. The Dataverse delivers services with agility by swiftly adding business value with an extensible data platform that uses common tables, extended attributes, sematic, meanings, and an open ecosystem enabled by Common Data Model. Your organization will boost productivity and reduce cost by building applications, processes, and reusable date schemes, Lastly, Dataverse will make your data work smarter by getting more accurate insights by adding low-code AI tools to your process automation. Dataverse comes bundled with Power Apps, Power Automate or Power Virtual Agent with default capacity based on the plan selected. Once licensed, your tenant will receive a based capacity (5GB or 10GB) and then each user license will incrementally increase the based capacity. Additional capacity for Dataverse may be needed and can be purchased in increments of 1GB at $30/GB/Month of incremental space. 
Bravo can help you choose the right Power Platform license to help provide you with the right services your organization needs to rapidly create powerful business applications, analyze data, automate processes, and create virtual agents. We hope that this article has helped guide you in learning about which licenses will help fulfill you and your organization's needs. To learn about our other Power Platform services, click here!
Need help finding the right Power Platform license for your organization? Bravo has your back! Fill out the form below to get in touch with an expert.