Working for the government requires a lot of external and internal security protocols. We want to keep our country's information safe. Thus, company's wanting to work with the government must be compliant with various regulations. All contractors were required by the Department of Defense (DoD) to become NIST 800 – 171 compliant as of December 31, 2019. Winning contracts means winning business! Companies can leverage compliance to grow business.
Now, a new certification of compliance has come to replace NIST 800 – 171. The Cybersecurity Maturity Model (CMMC) certification has become the standard and will be enforced. CMMC will not be required by the DoD until 2021, but it is great to get a head start. There are 5 levels of Certification that will rank your company. These rankings will determine which contracts you are qualified for. For more information on CMMC, checkout our CMMC compliance services page. 
How to use CMMC to Leverage Compliance to Grow Business
Since the DoD requires CMMC compliance, it is important to understand what the CMMC is. The main goal of the CMMC is to create a set of cybersecurity standards that encompass previous standards, like NIST 800 – 171 and NIST 800 – 53. CMMC will have 5 levels. These levels are extremely important. The higher the level, the more contracts your company can bid on. Having Level 4 or Level 5 compliance will make your company more competitive in the marketplace and you can compete for higher tier contracts. Leverage compliance to grow business by becoming Level 5 Compliant! Let's look at the levels: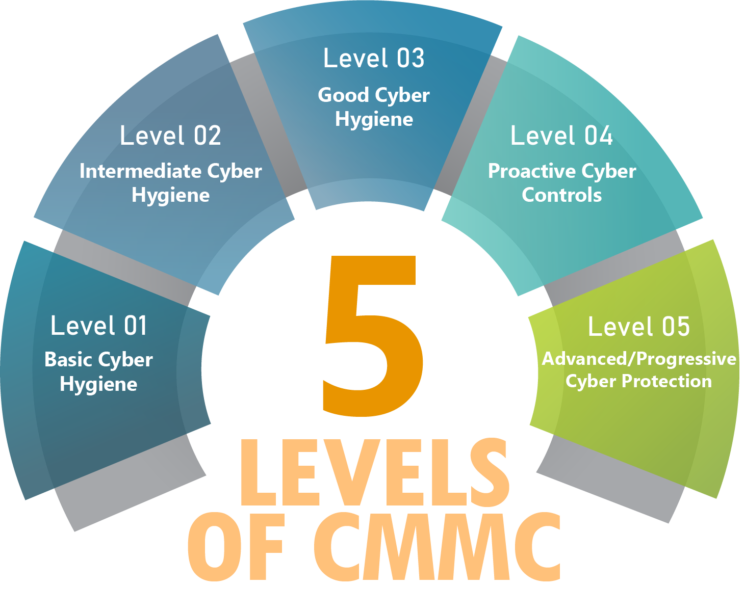 The Benefits of Level 5
What sets Level 5 apart from the others? The number of documented controls as outlined by CMMC. With Level 5 compliance, your business has the best cybersecurity qualifications. Your company can act as a role model in the industry and set the bar higher than your competitors. Not only does this prove that your network/data is safe, but your clients won't have to worry when doing business with you. You will also be eligible to bid on the highest tier of contracts! This is a great way to differentiate yourself and break away from the competition.
Risk Management
In business, taking risks is necessary. However, cybersecurity is not a risk worth taking. Losing large amounts of information can be detrimental to your company's reputation which can result in loss of future business, as well as current contracts. People don't want to work with a company that's not secure. A way that you can maximize growth, while minimizing security risk is by becoming CMMC compliant. This is just another way to leverage compliance to help your business grow. With hundreds of security controls, your business will be much more resilient to cyber threats and will allow your clients to feel safe. Boost your company's status and become CMMC compliant today! Visit our website to learn how.
Interested in more ways to secure your business? Subscribe below to receive more information: