The COVID-19 pandemic forced many organizations to find a solution to working outside of the office. Shifting to the cloud allows employees to work any time, from anywhere, on any device. A study from 2019 showed that 90% of organizations globally have used the cloud to some extent. Along with this, the estimated global spending on cloud services is expected to reach over $482 billion in 2022. From communicating with coworkers to project management, the average employee uses dozens of cloud-based services each day.
In a typical cloud migration, a company's applications, databases, content, services, and digital assets are moved to a cloud infrastructure from an on-premises environment or another cloud. There are four types of cloud computing: public clouds, private clouds, hybrid clouds, and multi-clouds. Different types of clouds will be more suitable for different organizations, so thorough research should be done to find the best fit.
Benefits of the Cloud
Increase Collaboration and Productivity
By storing data in the cloud, employees can easily access and share data with others in real time. There are many cloud-based services that are designed to prioritize seamless communication and creative ways to share ideas. Another benefit is applications that encourage employees to take breaks and promote healthy work-life balance. After migrating to the cloud, hybrid and remote work for employees will be a breeze.
Improve Scalability
As an organization grows, so can their cloud environment. Many cloud environments are "pay-as-you-go" so that there's always enough storage for what you need. This allows you to focus on expanding rather than constantly dealing with data-storage issues.
Lower Costs
With the cloud, you only pay for what you need. Storing data in the cloud eliminates the space and time needed to keep up with on-prem storage. The return on investment (ROI) immediately outweighs the cost of the cloud migration and has potential to bring in more revenue.
Secure Data
Security is becoming a top priority for many organizations as the digital landscape continues to grow. One of the biggest benefits of the cloud is encryption. Encryption is a way to protect data so that those not intended to access it are unable to decipher it. Many professionals have found that moving to the cloud has better protected their data, with 94% believing their online security has improved after moving to the cloud. Along with this, 48% of organizations confidently store their most important data in the cloud.
Competitive Advantage
Migrating data to the cloud may not be a right fit for every organization, but those who have will have a distinct advantage over others. Using the cloud allows data to be pulled with the click of a button. The sooner you migrate, the farther ahead of the competition you will be.
Check out our infographic, 5 Ways to Thrive in the Cloud, for more information on cloud benefits!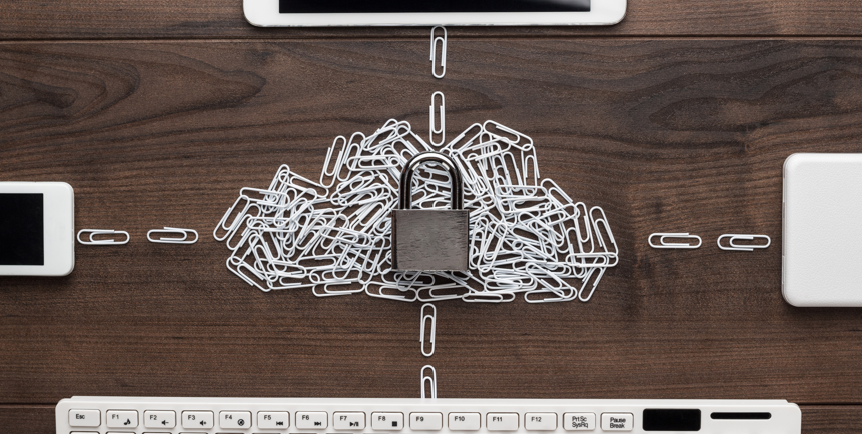 Why You Should Migrate Now
As threat actors progress and become more sophisticated, so does the way you protect your data. Storing data in the cloud provides a high level of security. When data is stored in the cloud, it can be encrypted so that only the intended audience can read/understand it. This is critical to keeping your data safe and private. Another reason encryption is important is it is often a part of staying compliant with federal regulations and standards. Having a regular backup and recovery plan are also essential to running an organization. In the unfortunate event that data is compromised, or a natural disaster occurs, having up-to-date data and files stored in the cloud could save an organization millions of dollars.
Remote and hybrid work is becoming the new norm for many organizations. Offering work from home options to employees allows for greater flexibility and can be more cost friendly. After being forced to work from home for some time, employees are finding that this work environment is more suitable for them. In a study, 34% of respondents say they prefer to work from home. This 34% also said that if they were required to work in the office full-time, they would look for a new job. Going forward, organizations will have to heavily consider what the workforce prefers to keep a happy company culture.
Migrating to the cloud is now easier than ever. Here at Bravo, we will guide you through your cloud migration and ensure it is a success. From start to finish, you'll have a helping hand. Once your migration is completed, Bravo can also help manage and optimize your cloud environment to keep everything is running smoothly. From security surveillance to updates, we will continuously monitor your cloud environment so you can stay focused on achieving your goals.
How Bravo Can Help
On Prem to Cloud: This migration happens when an organization migrates all of its data into a cloud environment.
On Prem to Hybrid: A hybrid environment operates with some data in the cloud and some staying on an on prem server or in another cloud.
Cloud to Cloud: Sometimes a cloud environment doesn't have everything you are looking for. Just as it sounds, this is moving from one cloud environment to another.
Tenant Consolidation: Consolidating data is a great way to optimize your cloud environment. This is helpful when going through an M&A or divestiture.
Exchange Migration: Migrating mailboxes and public folders in Microsoft Exchange provides great benefits and allows your organization to operate more efficiently.
Don't know where to start? Bravo has your back! Fill out a form below to learn more about how we can assist you in your journey to the cloud.