NIST stands for the National Institute of Standards and Technology. NIST 800-171 is a codification of the requirements that any non-Federal computer system must follow in order to store, process, or transmit Controlled Unclassified Information (CUI), or provide security protection for such systems. Controlled Unclassified Information (CUI) is information that isn't explicitly regulated by the government. NIST 800–171 is a set of cybersecurity controls that must be met by contractors and subcontractors that work with the Department of Defense. These controls are safety measures to keep your company secure from attacks and/ or a breach. There are in total 110 controls of 800–171. These controls are broken up into 14 groups. Shown below are the groups.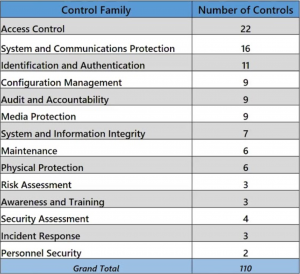 Why Should You be NIST 800-171 Compliant?
Now that we defined NIST 800-171, let's discuss why it is so important. The goal of NIST 800-171 is to help businesses keep their data and information secure and safe. Implementing these practices provides a host of benefits. In addition to meeting industry and governmental regulations, NIST standards help protect critical infrastructure from insider threats and external attacks.
NIST compliance can be used as a baseline for evaluating bids and contract awards. The Department of Defense and other agencies in the U.S. Government declared that all contractors and subcontractors must be NIST 800–171 compliant by December 31, 2017. This is a requirement and lack of compliance will result in loss of credible reputation and the chance of winning future contracts with the DoD. Also, this may result in the loss of current contracts! Having compliance will give your company less stress knowing that they are more protected against these risks than they were previously.
Interested in more ways to secure your business? Subscribe below to receive more information: