"One of the things when looking at records is that it really is a Pandora's box of information. We have a huge amount of information that we create regularly on a day-by-day basis, but sometimes we don't really think about what that is and where that is." – Eric Schrier, Bravo Consulting Group, LLC
Some of the most common places where content is stored within Microsoft 365 (M365) are Teams, SharePoint, and OneDrive. As more and more records are created and placed in these M365 repositories, consequentially, the more content there is that needs to be managed. To paint a clearer picture of the amount of data that is out there, here are a few numbers:
· Over 270 M monthly active Microsoft Teams users as of January 2022
· ~17% YOY growth in Office 365 Active users since 2021
· On average, globally, every human creates at least 1.7 MB of data every second
· 200+ ZB of data is expected to be stored in cloud infrastructure by 2025
There are several frustrations that come along with the rapid increase in data stored in the cloud year over year that we are seeing. One of the primary frustrations, to no surprise, is data costs. As more data is created, it starts to become a balancing act where you must look at your data footprint and prioritize what should be kept and then determine when you need to dispose of something.
"You have a limit on what's available to you based on your licensing with Microsoft on what you can actually store in the cloud." – Conor Dean, AvePoint
Another frustration that organizations experience are the risks associated with storing business critical information in the cloud. The biggest risks are with your organization's sensitive data such as patents, legal information, PII, etc. These critical pieces of information run the risk of being exposed or destroyed if you are not managing them properly.
Finally, as you collect more information, it can become increasingly more difficult to find what you are looking for, which majorly impacts an organization's productivity.
"On a day-by-day basis, about 10-20% of a person's day is spent looking for and finding information." – Eric Schrier, Bravo Consulting Group
In order for your users to freely move and have a productive workflow, you must have a process in place that allows them to efficiently get to what they need, when they need it. To achieve this, it is important that you recognize your storage limits in the cloud and ensure that you are disposing of content appropriately. All in all, these are the most common frustrations organizations have with storing information in the cloud and are the glaring reasons that tracking and managing your information properly is critical to not only your productivity, but also your security and pockets.
To solve today's challenges that come with information management, one of the key ingredients to success is to define classification in order to establish taxonomy. Doing so helps restructure and organize your information in a way that is easily accessible.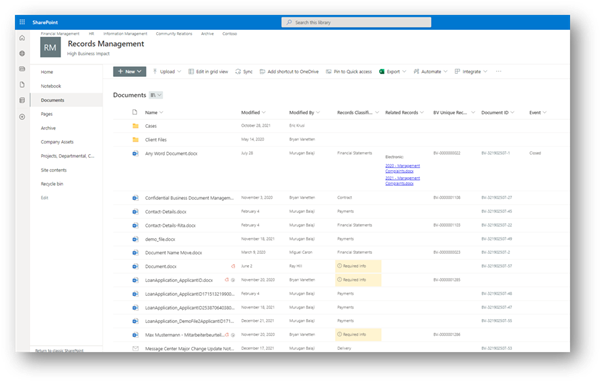 Next, it is important to apply labels to your information so that you can associate outcomes and actions with the classifications that you have established. These labels will help you swiftly move, quarantine, encrypt, lock, export, and delete information. Once you have properly classified and labeled your data, it is time to educate your people on the relevant classification branches that have been created so that they have a clear understanding of the rules and can help ensure the right people have access to the right information. Next, it is time to focus on the automation piece of it all to ensure accuracy while keeping the burden on end users to a minimum. As mentioned earlier, one of the primary pain points we want to solve for end users is productivity. By harnessing the power of automation, we can help simplify your business processes and take your ability to collaborate securely to a new level. Finally, this brings us to the last piece of the puzzle – reporting and auditing.
This is an integral part that helps organizations prove compliance, improve visibility, and keep operations running smoothly. Together, Bravo and AvePoint can provide you with the technical solution you need to get your content under control once and for all and escape the burden of traditional records management.
Powered by AvePoint. Delivered by Bravo.
Bravo has been an invested partner of AvePoint for 13+ years and is the first AvePoint partner in North America to earn their AvePoint Cloud Records Certification. Bravo and AvePoint work 'Better Together' by teaming up to deliver AvePoint's powerful Cloud Records solution to help organizations take the reins on their information lifecycle and turn their assets into an advantage.
Access the Webinar Video On-Demand HERE to Learn How Cloud Records Can Help.