With App Modernization, there is the data behind the underlining application that needs to be moved to the cloud. This involves a simple migration from point A to point B. However, there is also the application itself; the buttons, design, and code that need to be redeveloped in the new environment. During this process, the applications are updated with modern features and capabilities. This is a crucial step to have your applications work with your current business needs. However, anything involving the cloud comes with its own set of benefits and challenges – including the process of migrating legacy data. Let's dive deeper into the complex world of application migration.
Methods

There are four main methods for application migration: rehosting, refactoring, replatforming, and retiring. Rehosting is typically thought of as the preferred way given that it is the simplest method. Rehosting refers to applications being moved from on-premises servers to a cloud platform. While this is quicker and can save on costs initially, the long-term costs could end up being higher. Additionally, rehosting won't provide cloud-native capabilities unless there is modification done. This brings us to refactoring. Refactoring reworks the application by means of altering the architecture or code. This brings up challenges due to a multitude of software that needs to be re-coded to add features and enhance scalability.
The less complicated version of this is replatforming, which is similar to refactoring, but the changes are done on a smaller scale. Replatforming allows for applications to still have some cloud-native benefits while saving time and effort. However, some applications are just too complex for migration. In other words, their maintenance costs may be too high or their functions would be handled better by other software. When this is the case, it is time to retire and replace these legacy applications.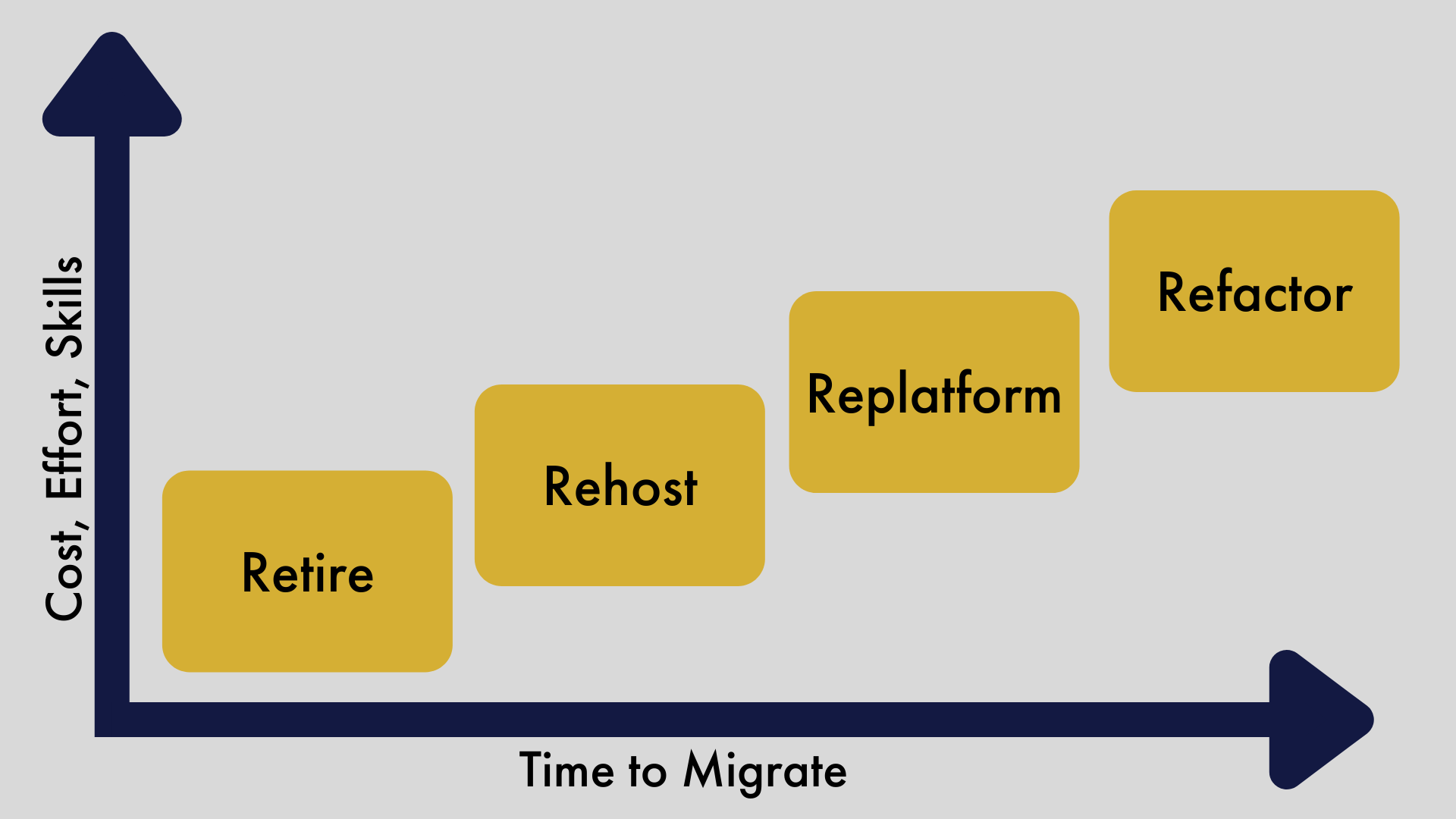 Benefits and Challenges

There are many benefits of application migration. Bravo's Software Engineer, Lindsey Crittendon describes it as follows,
"It allows you to optimize costs, gives flexibility and scalability, enhances security, and simplifies management and monitoring. Cloud platforms also have specialized offerings for highly regulated fields such as finance, health care, and government to help those fields meet compliance requirements easily."
In addition to this, migrating your applications can significantly reduce costs. Cloud platforms such as Bravo's preferred Microsoft Azure, run applications cheaper than on-premises applications. The cloud allows you to pay for what you use and eliminates the need for equipment.
Although, app migration also comes with challenges. The first being technical difficulties. This can vary depending on the size of the migration and the cloud infrastructure used, but the more complex the more likely a technical issue will occur. Another challenge is unforeseen costs. There is a lot that goes into migrating applications and there are times costs pop up that were not planned. Lastly, it is important to remember to create a solid plan for your organization. Switching to the cloud can be a big change and it can be a challenge finding the system that works for your organization's culture. Luckily, Bravo is here to guide you on the complex path of application migration so that these challenges aren't as daunting.
Legacy Application Challenges

Despite all of the above challenges that come with app migration, the biggest challenge involves migrating legacy applications. Legacy applications are software programs that are outdated and unstable, but still critical for day-to-day operations. Updating them can bring up many issues. One challenge is the disruption it can cause to business, especially when seeking to modernize all legacy applications. It can interrupt the flow of business and it is necessary to prioritize the critical ones first and handle the rest in chunks to not overwhelm your organization. Additionally, there is the issue of quality assurance and performance of the application. Once migrated, you need to ensure the application is running successfully. It needs to function as well as the legacy application once did. Achieving this can be a difficult task, but our experts can help make this a smooth process and will be in your corner every step of the way!
Wrap-Up

Application migration can seem intimidating, but it is a necessary step in moving your organization to the cloud. While there are challenges that may arise as the process goes on, with the right preparation and help from an expert, you can eliminate a lot of stress and save precious time (and money). Bravo's experts can help create a personalized plan to get your applications moved to the cloud in no time!
If your organization needs help migrating applications to the cloud, Bravo has your back! If you have any questions or would like to get in contact with one of our experts, fill out the form below.