The "People Side" of Migration

Cloud Migration can seem like a daunting task. It forces you to forget what you know and learn new ways of managing your data and working as a team. However, cloud migration is more than just switching your data over. It also involves the people who work for your company. It is crucial for a business's success to ensure they are properly trained and knowledgeable on the cloud.
Why Training Matters

Productivity

In the world of the cloud, it is necessary to invest in your employees so that they are properly trained. There are several reasons why it is important to do so. The first is that it provides crucial skills that ultimately increase productivity. Having this general cloud knowledge can drastically change their day-to-day operations. For example, if a user deletes something accidentally then it is important to know how to restore it. Given that the cloud provides so many computing resources, training helps to avoid issues such as underutilization, unbudgeted costs, security risks, and compliance missteps. Providing employees with knowledge of company data and what is stored on the cloud can lower your risk of running into these issues.
Work Environment

On top of this, training contributes to a positive work environment. It shows you are investing in your employees' skills and want to see them succeed. There is a quote that describes two businesspeople and the one says, "well, what if we spend all this money on training and they leave?" The other replies, "but what if we don't spend the money and they stay?" That is an important idea to grasp. Training employees not only benefits them but also benefits your company by ensuring a successful, stress-free migration.
Security

Although more than anything, the biggest reason training matters is for security purposes. Security differs greatly in the cloud. There are different tools and policies to follow and unlike before when IT would implement security policies, all cloud users now have a role in securing the data. Additionally, one of the biggest components of this is knowing how to use the Access Control List. This is where you assign the privilege list for all users. If employees are not properly trained, they won't understand how to delegate access, which leads to a security issue if the right users don't have the right access. This means the files, important data, work information, and cloud infrastructure won't be secure. The cloud is a great tool if utilized correctly.
What is Adoption & Change Management?
Adoption & Change Management (ACM) is a strategy used to train employees on the cloud. Here at Bravo, we have a specific ACM curriculum to teach employees about cloud-based products.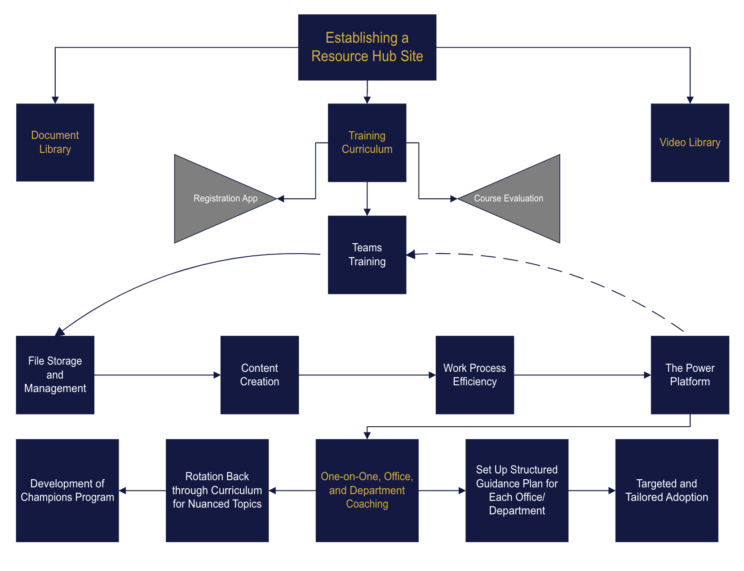 This chart illustrates our overall curriculum that includes four main components. The first is establishing a resource hub site. This is essentially creating a starting point and is the main place employees can find useful training resources. This includes the document library, video library, and training curriculum. Within the training curriculum, Bravo records how-to videos for employees on different subjects. One huge benefit we provide is after the training curriculum is done, Bravo offers to come into the office and do team training or even one on one training sessions. We understand that everyone learns differently. This is why we cater to the individual's learning style whether it be visual, auditory, or kinesthetic. ACM is an investment that leads you to save money in the future by increasing the skills and productivity of employees.
Training Helpful Hints

Change can be hard for employees. However, one thing that can motivate them to be excited about change is showing them how it will improve their work life. A good point to mention is how beneficial the cloud is for collaboration. Once they generally know how to use the cloud infrastructure, it will prove to be a great resource to get things done as a team. Another thing to remember when training is to make sure your userbase is privy to what is stored on the cloud. Knowing company data is huge for security purposes.
Lastly, a helpful tip for migration is to make sure your cloud infrastructure is always kept up to date. This will help employees to learn the correct skills. A good example of this is Microsoft Azure. With Microsoft, it is easy to remember when an update is going to be released. The second Tuesday of every month is known as "Patch Tuesday." This is when an update is released for Microsoft Azure Stack and Azure Flow. The system admins patch your Azure stack on this day. Remembering this is a big key to a successful migration.
ACM – The Right Choice

There is a lot that goes into Cloud Migration and the key is remembering the people that will be using these new tools. With Bravo's innovative Adoption and Change Management strategy, your employees will become cloud experts. It will prove to be a worthwhile investment as business efficiency and utilization skills will rise exponentially. An investment in your employees is an investment in success.
Interested in learning more about ACM? Bravo's ready to help! Fill out the form below to get in contact with one of our ACM experts.