From creation to disposition, how your organization manages its records plays a big role in the overall function, productivity, and security of an organization. With cloud adoption continuing to rise, the ability to efficiently manage records in a digital format is more important than ever. The National Archives and Records Administration (NARA) has emphasized how critical strong records management is by mandating all their records become digital by the end of 2022. For more information about this NARA Mandate, read our blog.
When comparing AvePoint with Microsoft solutions, consider the core capabilities, cost, and Pros and Cons. Both AvePoint Cloud Records and Microsoft 365 (M365) Native Records provide organizations with secure and compliant records management processes. Depending on what your organization needs, one solution may be more beneficial than the other. With that said, let's compare the features and benefits of each…
AvePoint Cloud Records

As a five-time Microsoft Partner of the Year Winner, AvePoint's Records Management solution will provide your organization with every feature you need to stay secure and productive. Cloud Records utilizes automation to make classification & taxonomy, retention & disposal, and auditing & reporting simpler and more streamlined than ever before! Bravo can help deliver the Cloud Records solution to your organization to help you gain visibility and control, manage your records from anywhere, and use automation to ensure compliance.
Some of the benefits of using Cloud Records:
Manage physical and electronic records
Decrease storage costs and fees
Meet organizational and regulatory standards
Improve productivity and user experience
AvePoint Cloud Records Features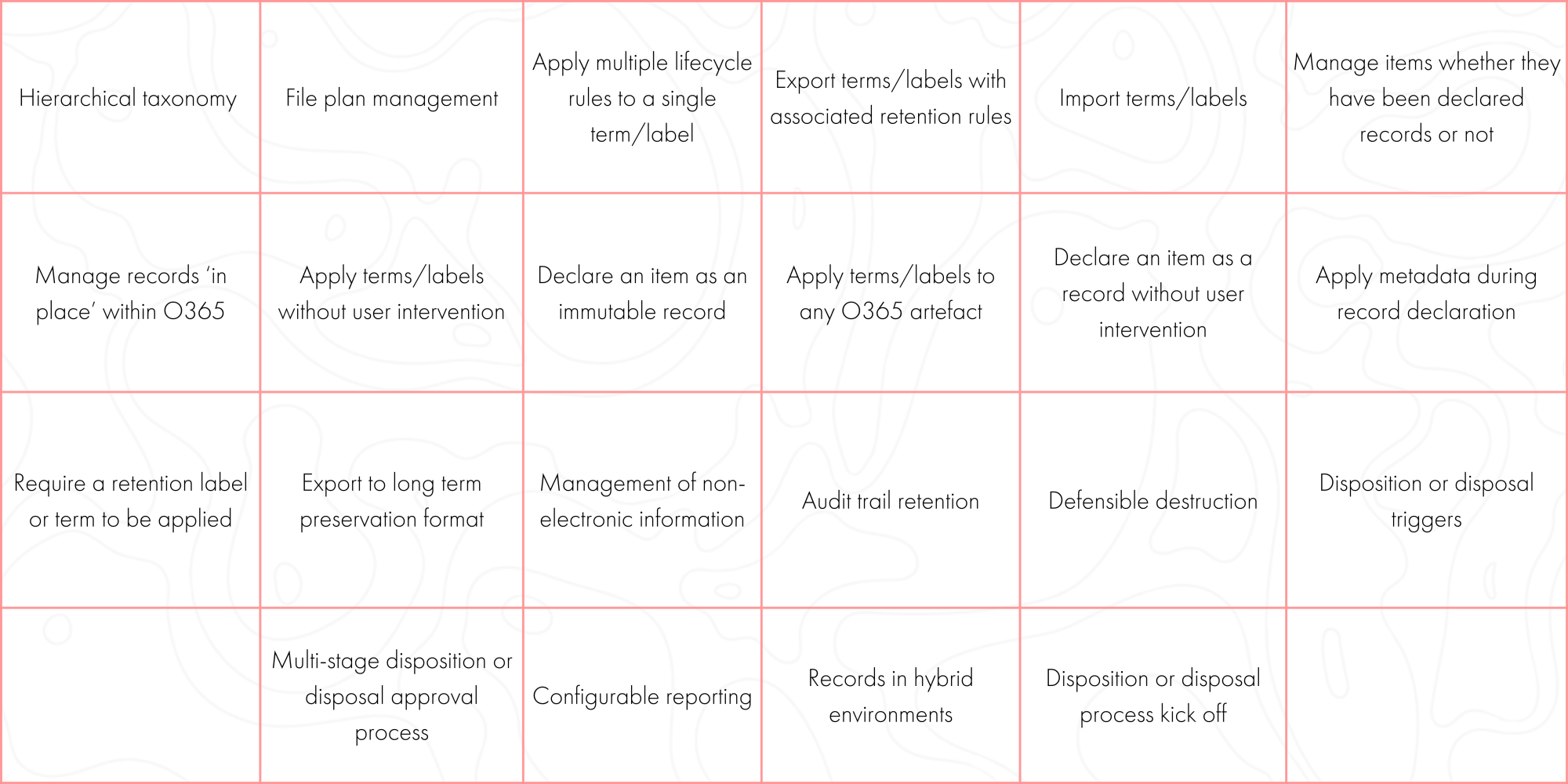 AvePoint Cloud Backups

When looking at records management, it's essential to have a backup plan in case of accidents or ransomware attacks. With solutions for M365, Salesforce, Dynamics 365, Google Workspace, and ransomware protection, AvePoint is known as the leader in multi-SaaS backup. AvePoint Cloud Backup provides data loss prevention, long-term retention, and anytime access. Their backup solution has been in the market since 2013 and will assure your organization with "Accident Proof" solutions with the best tools out there. In addition, some features that are not available or are limited in M365 can be found with AvePoint.
M365 Native Records

Microsoft's M365 platform incorporates a capable records management function fully integrated with all M365's content management components, including SharePoint Online, OneDrive, and email. In addition, M365 Native Records leverages multiple aspects of Microsoft's Security and Compliance Suite of applications. It is centered around governance, retention, labelling, search, and e-discovery applications.
Below are some of the features included in the Native M365 records management platform:
Manage items whether they have been declared records or not
Audit trail retention
Disposition or disposal triggers
Disposition or disposal process kick off
Configurable reporting
Manage records 'in place' within office 365
Manage records 'out of place' within office 365
Declare an item as an immutable record
Check out how AvePoint Cloud Records compares to Office 365 (O365) Native functionality here.
M365 Backup Solutions

Many cloud providers, including Microsoft, recommend investing in a third-party backup solution. This is because a majority of cloud providers leverage a "shared responsibility" model. By having a third-party backup solution, shared responsibility is eliminated and the third-party solution takes full responsibility of keeping your data protected. Although some cloud providers have backup options, they are not required to backup your data. Read Microsoft's Services Agreement for more information.
Wrap Up

All in all, AvePoint's Cloud Records platform leverages all the same content capabilities in M365, integrates entirely with M365, but provides an enhanced, easier to use and manage, more comprehensive capability at a low cost.
How We Can Help

Bravo has been a trusted partner of both AvePoint & Microsoft for more than 12 years. We have expertise in delivering both solutions and can help your organization leverage the two to enhance your record management processes. Our combined records management solution provides a fully capable records management system with AvePoint enhancing the automation, reporting, transparency, and flexibility over and above the Native M365 platform while also reducing management overhead.
Need help implementing or improving your current records management process? Bravo has your back! Fill out the form below to get in contact with one of our experts!