With just about everything in our daily lives being digital, it makes sense for agencies' records to be digital too. The United States government is wrapping up the National Archives and Records Administration's (NARA) mandate to have all digital records. The NARA mandate, known as M-19-21, requires agencies to digitize all records being transferred to NARA. This hard deadline is set to December 31st, 2022. As a result, agencies must be prepared to store, transfer, and dispose of electronic records by then. Using our NARA First Steps Guide will help put your agency in the right direction.
Why Start Now
Again, after this December 31st, 2022, NARA will not accept any temporary or permanent paper records. In addition to records having to be digital, they must be tagged with the proper metadata. With less than a year to prepare, digitizing all records must become a priority. Here are some things to consider:
Funding: New equipment may be necessary to convert paper records into an electronic format. Also, more labor may be needed to accomplish digitizing in a timely manner.
Approvals: Digitizing all records will have an impact on how every employee in an agency operates. Top management and stakeholders need to be aware of substantial changes.
Planning: Each agency handles different records for different purposes. Creating a plan that suits your budget and timeline is crucial to success.
Purpose of the Mandate
This NARA mandate stems from the digital government strategy aimed to "build a 21st century digital Government that delivers better digital services to the American people." Keeping paper records that might be stored all over an organization, or in a separate facility, can be inconvenient, costly, and have a regressing effect on agencies. Some federal agencies are using old schedules that were approved over two decades ago. As a result, agencies have not had a chance to optimize records management and may be falling behind because of it. Due to this, records management must be an agency-wide priority. In the end, NARA's mandate provides huge benefits for all agencies. For more information on the mandate, review our in-depth blog, Preparing for the 2022 NARA Mandate.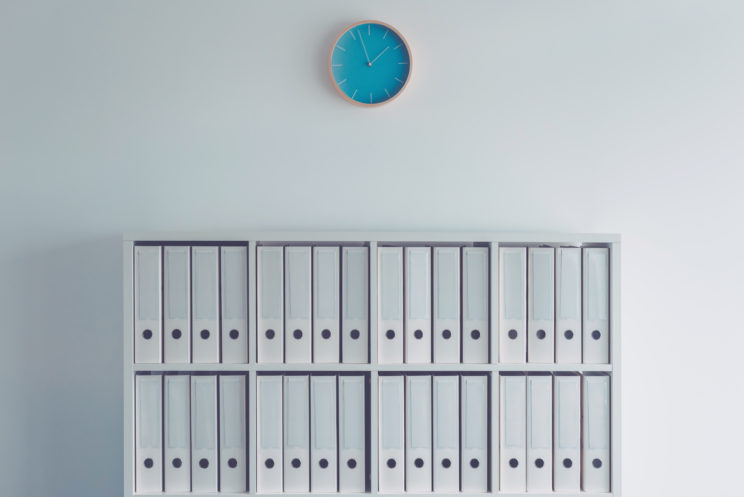 Steps to Get Started
1. Analyze Current Record Storage
Understanding how many records you possess, and their locations is the first step in digitizing your files. Ensure that there are no records being overlooked in emails or other locations. Analyzing your current record storage tactics will establish a baseline of where to begin. Gathering and locating all records can be a daunting task. It is better to start somewhere, so do not be afraid to create many small tasks to accomplish a large one.
2. Develop a Game Plan
Each agency will have a different plan on how they digitize files and maintain this records management process in the future. Although planning is unique to an agency, each will want to take a high-level view. A high-level view describes areas that will require focus for managing electronic records. This includes policies and systems that are effective, being able to access records, and executing disposition.
Policies will need to be updated to include digital record keeping responsibilities for employees receiving, creating, and accessing federal records. Training will need to be provided to ensure personnel are able to manage electronic records. These policies must address NARA Basic Laws and Authorities
Systems must be created and adjusted with electronic records in mind. Agencies must be able to control electronic records to properly transfer them to NARA.
Access to electronic records by authorized personnel should be efficient. Digital records should be protected from unauthorized access and alteration.
Disposition, or transferring electronic records to NARA, should follow agency-specific instructions or the General Records Schedule.
3. Consult an Expert
Transferring all of your physical records to digital can be a big lift, that's why it is recommended to consult with an expert, such as Bravo, to get the job done thoroughly and correctly. Doing so often improves efficiency and is more cost effective. Our compliance experts are readily available to guide you through your record's digital transformation and ensure that it is a success. With 14+ years of experience and a proven track record, you can feel confident that you are in good hands. Bravo has your back!
How Bravo Can Help
Digitize: Bravo can take the time to digitize all your paper records so your agency can focus on its goals.
Optimize: We will help optimize your records management systems so that your agency's personnel can do their jobs more efficiently than before.
Comply: Keeping up with electronic records can be daunting. Agencies must follow compliance with permanent and temporary records and disposition. We can ensure that your records stay in compliance while keeping all records secure and protected.
Need help getting started? Fill out a form below and one of Bravo's experts will reach out to you!